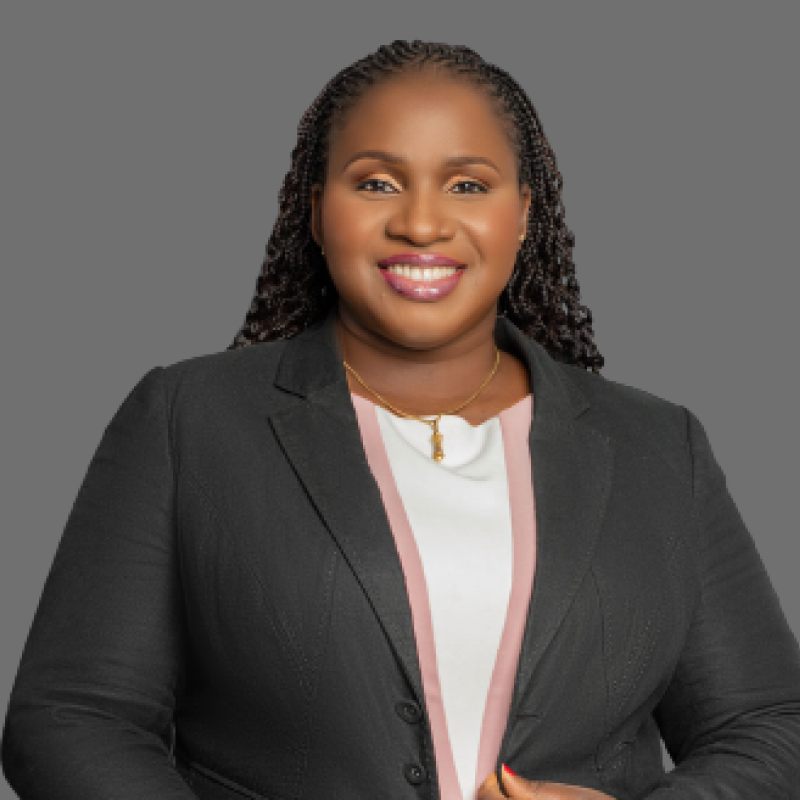 Omono Blessing Omaghomi
Omono Blessing Omaghomi is a member of the Firm's Dispute Resolution Practice Group and heads the  Employment and Labour Law Practice. She has dealt extensively on issues of employment and labour law, various arbitration proceedings, banking, aviation claims, debt recovery, real estate, insolvency, family law, enforcement of fundamental human rights, and enforcement of local and foreign judgments. She advises both foreign and local companies on industrial relations, pension reforms, and various forms of terminal benefits as it relates to employee and employers' relationship.
Omono has advised and represented various clients in several notable commercial disputes and arbitration proceedings both as the lead and team member which include:
An employment suit between an indigenous oil company at the National Industrial Court and a former employee for a claim of wrongful termination of employment where the employee claimed general damages for wrongful termination of employment in the sum of ₦500,000,000.00 (Five Hundred Million Naira) and special damages in the sum of ₦800,000,000.00 (Eight Hundred Million Naira) covering her terminal benefits. Judgment has been delivered and the court dismissed the claim in its entirety.
Arbitration between a Rtd. General & a Real Estate Developer; a claim valued at €17,925.00 (Seventeen Thousand Nine Hundred and Twenty-Five Euros) and ₦ 4,650,000.00 (Four Million, Six Hundred and Fifty Thousand Naira) respectively.
An action for the recovery of a debt in excess of US$10 million (Ten Million US Dollars) and 

N

2 billion (One Billion, Two Hundred Thousand Naira) being the sum owed a company under a Public Private Partnership Management Contract with a State-owned public utility corporation.
A claim for damages resulting from the unilateral termination of a sole retainer agreement for legal services between our client and a commercial bank. Judgment was entered in favour of our client in the sum of ₦534, 125, 351. 66 (Five Hundred and Thirty- Four Million, One Hundred and Twenty- Five Thousand, Three Hundred and Fifty- One Naira, Sixty-Six Kobo). The matter is fundamental to the application of contract law in Nigeria, which interprets whether a contract for legal services can be in perpetuity.
Civil action instituted by the Petroleum and Natural Gas Senior Staff Association of Nigeria (PENGASSAN) and other Claimants against Chevron Nigeria Limited (CNL) in an action at National Industrial Court Lagos where PENGASSAN sought the Court's determination on whether an indigenous oil company ought to obtain the written approval of the Minister of Petroleum Resources before embarking on any staff reduction and or redundancy exercise, per the Release of Staff in the Nigeria Oil and Gas Industry 2019, and other injunctive reliefs against the company prohibiting any redundancy exercise until the approval of the Minister had been obtained. The claims of the Claimants were dismissed in its entirety.
MEMBERSHIPS
Nigerian Bar Association (NBA)
Chartered Institute of Arbitrators (UK), Nigeria branch
International Federation of Women Lawyers (FIDA)
International Bar Association (IBA)
Michael Imoudu National Institute of Labour Studies (MINILS)
Employment and Labour Lawyers Association of Nigeria (ELLAN).
 EDUCATION
University of Lagos (LL.M)
Nigerian Law School (BL)
University of Benin (LL.B
University of Benin (Dip)
PUBLICATION
Termination of Employment: The Effect of the ILO Convention on Contracts of Employment- November 2022.
Co-author of the Nigerian chapter on Enforcement of Foreign Judgments, a publication by Lexology, a web-based provider of legal updates and insights.